Nitrocellulose Solution Grades
---
Depending on the required specifications, you can choose A-Grade or E-Grade NC Solution.
A-Grade NC Solution
ArChem A grade Nitrocellulose solution is soluble in alcohol, ethanol, and methanol. Due to its solubility in alcohol, it can be used for printing inks.
E-Grade NC Solution
ArChem E grade Nitrocellulose solution is soluble in an ester solvent. This product can be diluted with alcohols, aliphatic and aromatic solvents. ArChem E grade NC solution in comparison with A grades forms harder films and is more resistant to alcohols, so it is suitable for wood and leather coatings.
AM-GRADE NC SOLUTION

ArChem AM grade Nitrocellulose Solution is produced from a mixture of nitrocellulose and solvents in definite proportions. Depending on the required solution characteristics and final film properties, you can choose Nitrocellulose Solution-AM with different specifications.
ArChem Nitrocellulose solution is made by taking cellulose, and mixing it with sulfuric and nitric acid, generating an acidic pulp, which can be strained to produce two kinds of Nitrocellulose:
Water-based Nitrocellulose solution is used in tannery industries as leather surface layer.
Water-based Nitrocellulose solution is then combined with a number of fast-drying solvents to produce different kinds of colors for vehicles and inks.
In ArChem, the solvent used to dissolve Nitrocellulose is divided into 3 groups depending on dissolving capabilities:

Nitrocellulose Solution Advantages
---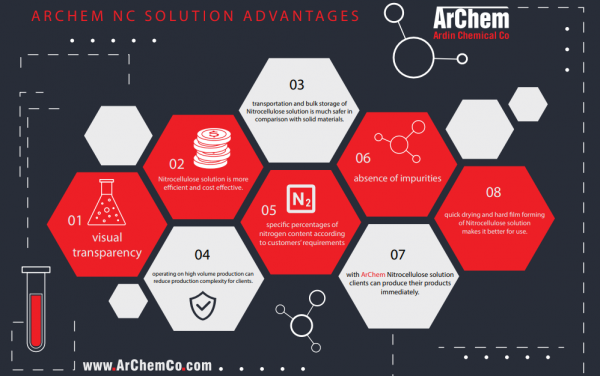 Some of the advantages of ArChem Nitrocellulose solution include:
The quick drying and hard film forming of Nitrocellulose solution make it better for use.
transportation and bulk storage of Nitrocellulose solution are much safer in comparison with solid materials.
Nitrocellulose solution is more efficient and cost-effective.
Operating on high-volume production can reduce production complexity for clients.
With ArChem Nitrocellulose solution, clients can produce their products immediately.
ArChem Products Advantages
---
Some of the advantages of ArChem Products include:
Perfect Clarity
ArChem Nitrocellulose Solution is exceptionally clear and this will cause the quality of the final product to be the best.
Guaranteed Consistency & Clarity
Our high standards for quality control and production methods, help us meet increasingly high performance and quality standards demanded by modern industry and consumers.
Packaging
ArChem NC solution packed in a metal barrel has a Net weight of 200 kg and NC solution packed in IBC drums has a Net weight of 1000 kg.
Nitrocellulose Solution Viscosity
As different solvents and nitrogen content will affect the final viscosity of the product, NC Solution viscosity depends on the solvent(ethyl acetate, ethanol,…) and nitrogen content.
Nitrocellulose Solution Application
There is a wide range of industrial applications for Nitrocellulose solutions. This product can be applied in lacquers for wood, plastic, leather, and self-dried volatile coating. Plus, Nitrocellulose solution is used in other industries such as Printing ink, Cosmetics, Paper, Metals, Packaging and etc.
Nitrocellulose Solution Preparation
---
Nitrocellulose Solution is prepared with high-speed stirrers which are first charged with non-active solvents and alcohols. The stirrer is activated and nitrocellulose is added at a rate that the grains are maintained in suspension and none settles out. The active solvent is then run in after the nitrocellulose is completely added. this technique is suitable only if the resulting solution viscosity is relatively low, otherwise, the stirrer will begin to labor. rapid reduction of viscosity by the addition of diluents can result in local precipitation of gelled pieces that do not readily re-dissolve.
Usually, a premix of solvent and diluent is used to reach the best result. For nitrocellulose chips, higher-speed stirrers are preferred.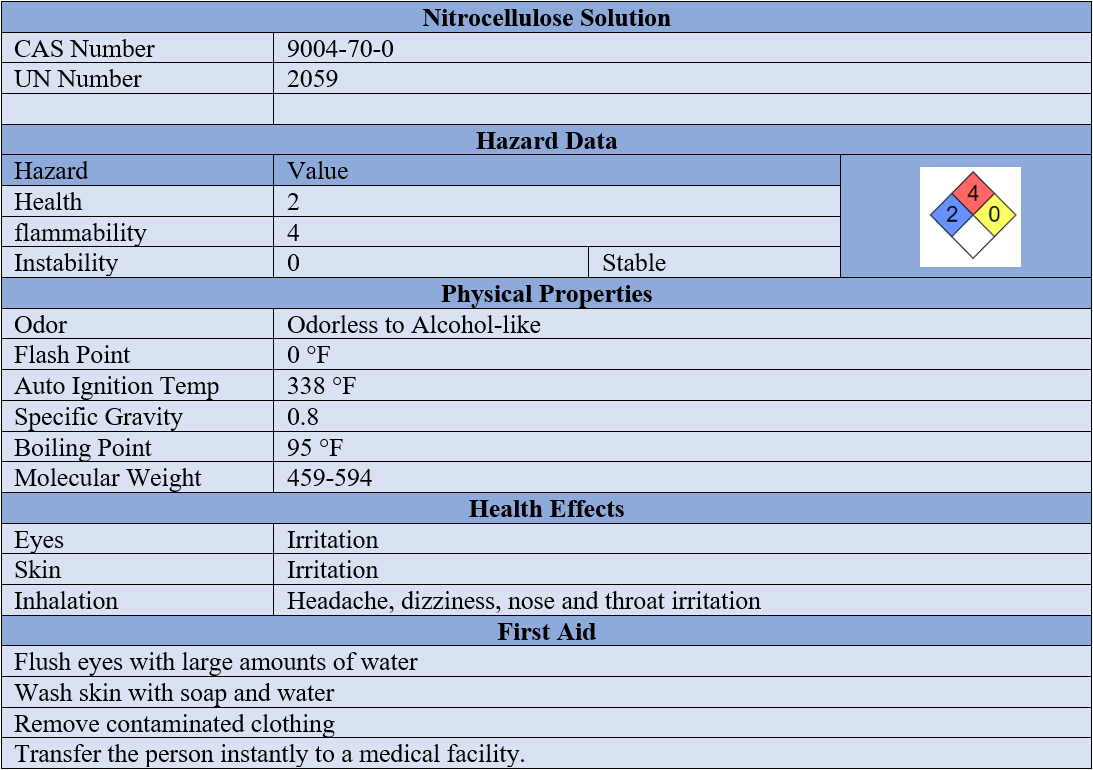 FAQ
---
What is Nitrocellulose solution? 
ArChem Nitrocellulose solution is a light yellowish liquid made from Nitrocellulose and solvents for use in different industries like printing inks, coating, cosmetics and etc.
What is the Nitrocellulose solution price? 
Depending on your required specifications, Prices are different, For more information please contact our technical sales team in ArChem.
What features should Nitrocellulose solution have? 
ArChem Nitrocellulose solution with specific percentages of nitrogen content according to customers' requirements, absence of impurities, and visual transparency provide the best quality for different industries.